#MacronGate Réseau Pédophile Européen en Suisse 2019 !⚠️ #Italie Canton de #Ticino Ville #Bellinzona Macron aurait participé juin 2018 soirée #PEDO avec Ivan Ambrosini, Vanni Bianconi, Samuel Golay, richard Katzberg #Ndrangheta
Thread at 8chan/pol, « European Pedo Politicians and more complex networks », from someone expelled from a rich pedo family
Posted By: MrFusion [Send E-Mail]
Date: Sunday, 27-Jan-2019 15:46:47
This seems authentic to me, almost certainly not a LARP, in my opinion. Very chilling.

The whole thread is here:

https://8ch.net/pol/res/12708444.html

When you go to the above link, you can click on his ID 993383 in the title line of the first post to highlight all the rest of his 27 posts.

Here is the text of the first post of the thread (I have removed the pictures he refers to. You can see them at the thread link above.):

~~~~~~~~~~~~~~~~~~~~~~~~~~~~~~
▶European Pedo Politicians and more complex networks Anonymous  993383No.12708444>>12708467 >>12708487 >>12708531 >>12708582>>12708602 >>12708676 >>12708777 >>12709092 >>12709126 >>12710401>>12710764 >>12711106>>12712719 >>12712804 >>12712916 >>12712991 >>12713583 >>12713595 >>12713674 >>12713710>>12713748 >>12713749>>12715016 >>12715718 >>12716205 >>12717692 >>12718105 >>12718112>>12718428 >>12718781 >>12718960 >>12719079 >>12723264 >>12723657>>12725016 >>12725503>>12726737 >>12726827 >>12727034 [Watch Thread][Show All Posts]

hello faggots =)

I come from a wealthy family in the auto industry but have been exiled as I am not of their kind. Not to fear, I have sufficient funds to last forever, or until I kill myself.

But before then, I would like to explain to you who might be interested, how wealthy pedophiles can purchase individual or groups of children. Services offered also include destruction of evidence, police protection, sexual education of the child before purchase and shipping across europe. Its pedo Amazon for the upper klass.

The main storage facility operates from my family's canton.

Bellinzona is the where you will find the capitol of pedo criminal organizations.

It is run by some jews and others. Thanks to you all, I have learnt the truth about Jews.

Any way. Attached are some pictures of pedo's I can confirm. Do you have any questions?
~~~~~ END OF POST ~~~~~

The city of Bellinzona is in the Italian speaking Swiss canton of Ticino, south of the Alps, essentially a « suburb » of Italy.

The following is a screen capture from the thread, of the website of a company, ostensibly a waste disposal company, that is discussed in more detail at the thread:
'Ndrangheta, comincia a Bellinzona il processo allo "svizzero": "Cosimo Leotta riforniva di armi i mafiosi in Lombardia"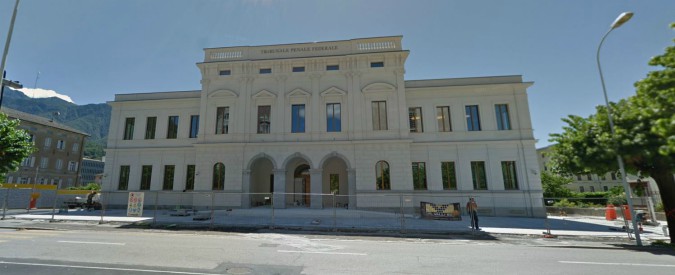 È iniziato il 9 ottobre il processo al referente della 'ndrangheta di Guardavalle in Svizzera. Sul banco degli imputati, davanti al tribunale penale federale di Bellinzona, è seduto Cosimo Leotta, un calabrese di 61 anni: è accusato di essere stato affiliato ai locali di Giussano e Seregno, in Lombardia, tra il 2005 e il 2011 . All'imputato il procuratore federale Sergio Mastroianni contesta anche i reati di ricettazione, denuncia mendace e traffico di armi. Nato a Pazzano, in provincia di Reggio Calabria, e oggi residente a Bienne, nel canton Berna, Leotta è considerato l'uomo di fiducia di Antonio Belnome e Michael Panajia: erano i boss di Seregno e Giussano, arrestati per l'omicidio di Carmelo Novella e oggi diventati collaboratori di giustizia.
Nei verbali di interrogatorio resi davanti ai pm Ilda Boccassini e Alessandra Dolci di Milano, infatti, Panaija ha tirato in ballo "lo svizzero". I magistrati volevano sapere chi fosse e, nel marzo 2012, Panaija rispose: "Cosimo Leotta, si chiama Cosimo Leotta, è un affiliato del locale di Giussano che abita in Svizzera, vive in Svizzera… Lo portai avanti io, non mi diedero obiezioni e l'abbiamo affiliato". Affiliazione che poi, stando sempre alle dichiarazioni del pentito, fu comunicata anche ai boss di Guardavalle.
Oltre a essere un intermediario nel traffico di droga, secondo l'accusa, Leotta avrebbe fatto avere ai boss calabresi armiprovenienti dalla Svizzera dove, si occupava anche dellasorveglianza armata di piantagioni di canapa che si trovavano nei Comuni di Frieswil e di Kappelen. Al boss Belnome, Leotta avrebbe consegnato una pistola Desert Eagle, calibro 44 magnum, comprata nello Stato elvetico senza permesso di acquisto. Arma che poi, durante una perquisizione, i carabinieri della compagnia di Seregno hanno trovato all'interno di un deposito gestito da Cosimo Squillacioti, zio materno di Antonio Belnome.
Un'altra pistola da collezione, una semiautomatica Sig 210 calibro 9, l'ha regalata a Nicola Fraietta, anche lui affiliato al locale di Giussano e referente del boss Antonio Belnome. Leotta era l'uomo di fiducia non solo di quest'ultimo. Secondo i magistrati svizzeri, infatti, l'imputato era un messaggero di boss come Andrea Ruga, Vincenzo Gallace e Cosimo Leuzzi.
Conosciuto con il soprannome di "Plinio", infatti, Leotta era attivo anche in Calabria dove ha partecipato a diversi summit di 'ndrangheta. In uno di questi, tenuto in un casolare di Guardavalle, ha ricevuto denaro da un affiliato per la fornitura di armi. L'incontro sarebbe avvenuto a cavallo tra il 2002 e l'agosto 2003 quando, su invito di Andrea Ruga, capo locale di Monasterace, Leotta si è visto con gli altri affiliati come Liberato Tedesco, Antonio Stagno, un esponente della cosca Bellocco di Rosarno, Domenico Ruga e Antonio Belnome.
Ed è stato proprio in quel summit mascherato da "rimpatriata" che Cosimo Leotta ha conosciuto il futuro pentito divenendo addirittura "padrino" di uno dei suoi figli. In seguito si è anche occupato del sostegno finanziario e morale della compagna di Belnome quando lui era in galera. Anche i boss del Piemonte erano in contatto con Leotta che, dalle carte dei pm calabresi e lombardi trasmesse ai colleghi svizzeri, sembra essere stato a disposizione di più cosche. Per conto dei fratelli Aldo Cosimo e Adoldo Crea, infatti, "lo svizzero" avrebbe partecipato alla gestione del Night club Magic a Borgaro Torinese.
Jack Lang et Manu Macron pédophilies en Egypte 28/01/2019   Maroc