#UK #USA #Nigeria #Israel #Scandal Cambridge Analytica was offered President Buhari hacked emails ! #Election #Facebook #Zuckerberg
La firme d'analyse de données qui a travaillé sur la campagne électorale de Donald Trump a reçu du matériel de hackers israéliens qui avaient accédé aux courriels privés de deux politiciens qui sont maintenant des chefs d'Etat, ont déclaré des témoins au Guardian.
Plusieurs sources ont décrit comment les directeurs de Cambridge Analytica – y compris son directeur général, Alexander Nix – ont donné des instructions au personnel pour manipuler le matériel fourni par les pirates informatiques lors des campagnes électorales au Nigeria et à St Kitts et Nevis.
Ils affirment qu'il y a eu deux épisodes en 2015 qui ont alarmé les membres du personnel et les ont conduits à refuser de traiter les données, qu'ils ont supposées avoir été obtenues illégalement.
SCL Elections, la société mère de Cambridge Analytica, a nié avoir pris possession ou utilisé des informations personnelles piratées ou volées de ces personnes pour quelque raison que ce soit dans l'une ou l'autre campagne.
Les révélations sont les plus récentes pour attirer l'attention sur Cambridge Analytica, dont les activités sont étudiées aux États-Unis par le conseiller spécial Robert Mueller dans le cadre de son enquête sur une possible collusion russe à l'élection présidentielle américaine de 2016.
Comment l'histoire s'est déroulée
L'entreprise est sous pression pour expliquer comment il est possible d'accéder sans autorisation à des millions de profils Facebook. Les politiciens aux États-Unis et au Royaume-Uni l'ont accusé de donner des déclarations trompeuses sur son travail, et le commissaire à l'information a demandé l'accès aux bases de données de l'entreprise.
En tout, The Guardian et Observer ont parlé à sept personnes ayant une connaissance de Cambridge Analytica et de sa campagne au Nigeria début 2015.
Embauché par un milliardaire nigérian pour soutenir la réélection de Goodluck Jonathan, Cambridge Analytica a été payé environ £ 2 millions pour orchestrer une campagne féroce contre son rival, le leader de l'opposition Muhammadu Buhari. Jonathan a perdu à Buhari dans la course présidentielle. Il n'y a aucune suggestion Jonathan savait de l'opération secrète.
Le génie maléfique de Cambridge Analytica était d'exploiter ceux que nous croyons le plus
Les membres du personnel qui travaillent sur la campagne disent qu'au début de 2015, ils ont rencontré des sous-traitants de cybersécurité israéliens dans les bureaux de Cambridge Analytica à Mayfair, Londres. Les employés disent qu'on leur a dit que la réunion avait été organisée par Brittany Kaiser, une directrice principale du cabinet.
The Guardian et Observer ont été informés que les Israéliens avaient apporté un ordinateur portable depuis leur bureau de Tel-Aviv et remis aux employés une clé USB contenant ce qu'ils croyaient être des courriels personnels piratés.
Des sources ont indiqué que Nix, qui a été suspendu mardi, et d'autres directeurs supérieurs ont dit au personnel de rechercher des matériaux incriminants qui pourraient être utilisés pour endommager les candidats de l'opposition, y compris Buhari.
« Cela a fait que tout le monde se sentait vraiment mal à l'aise », a déclaré une source. « Ils voulaient que les gens le chargent dans leurs programmes de messagerie. »
Les gens « flippé », un autre employé a dit. « Ils voulaient ne rien avoir à faire avec ça. »
13:04
Un lanceur d'alerte de Cambridge Analytica: «Nous avons dépensé 1 million de dollars pour récolter des millions de profils Facebook» – video
Un membre de l'équipe de la campagne a déclaré au Guardian and Observer que les documents qu'ils croyaient avoir été piratés comprenaient les dossiers médicaux de Buhari. « Je suis sûr à 99% de ça. Ou s'ils n'avaient pas ses dossiers médicaux, ils avaient au moins des courriels qui faisaient référence à ce qui se passait. »
Lorsque les nouvelles de la réunion de Londres ont été renvoyées au personnel de Cambridge Analytica travaillant sur le terrain au Nigeria, cela a provoqué la panique, a indiqué la source. Les conseillers locaux en sécurité ont demandé à l'équipe du cabinet de quitter le pays immédiatement parce que si les partisans de l'opposition le découvraient, ils pourraient se retourner contre eux.
« Ce qui est clair, c'est que la sécurité de leurs employés ne semblait même pas leur être apparue », a déclaré un ancien employé. « C'était une situation très sérieuse et ils ont dû évacuer immédiatement. »
Un porte-parole de SCL Elections a déclaré que les membres de l'équipe travaillant sur la campagne au Nigeria sont restés dans le pays pendant la période de campagne initiale, et sont partis conformément au plan de campagne de l'entreprise.
Cambridge Analytica was offered politicians' hacked emails, say witnesses
Hackers offered personal data about future Nigerian president and future PM of St Kitts and Nevis, sources say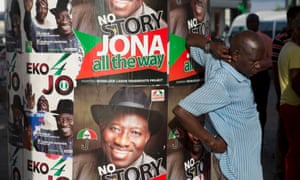 The data analytics firm that worked on the Donald Trump election campaign was offered material from Israeli hackers who had accessed the private emails of two politicians who are now heads of state, witnesses have told the Guardian.
Multiple sources have described how senior directors of Cambridge Analytica – including its chief executive, Alexander Nix – gave staff instructions to handle material provided by computer hackers in election campaigns in Nigeria and St Kitts and Nevis.
They claim there were two episodes in 2015 that alarmed members of staff and led them to refuse to handle the data, which they assumed would have been obtained illegally.
SCL Elections, Cambridge Analytica's parent company, denied taking possession of or using hacked or stolen personal information from such individuals for any purpose in either campaign.
The revelations are the latest to focus attention on Cambridge Analytica, whose activities are being investigated in the US by the special counsel Robert Mueller as part of his inquiry into possible Russian collusion in the 2016 US presidential election.
The firm is under pressure to explain how it came to have unauthorised access to millions of Facebook profiles. Politicians in the US and UK have accused it of giving misleading statements about its work, and the information commissioner has demanded access to the company's databases.
In all, the Guardian and Observer has spoken to seven individuals with knowledge of Cambridge Analytica and its campaign in Nigeria in early 2015.
Hired by a Nigerian billionaire to support the re-election of Goodluck Jonathan, Cambridge Analytica was paid an estimated £2m to orchestrate a ferocious campaign against his rival, the opposition leader Muhammadu Buhari. Jonathan lost out to Buhari in the presidential race. There is no suggestion Jonathan knew of the covert operation.
Staff working on the campaign say in early 2015 they met Israeli cybersecurity contractors in Cambridge Analytica's offices in Mayfair, London. Employees say they were told the meeting was arranged by Brittany Kaiser, a senior director at the firm.
The Guardian and Observer have been told the Israelis brought a laptop from their office in Tel Aviv and handed employees a USB stick containing what they believed were hacked personal emails.
Sources said Nix, who was suspended on Tuesday, and other senior directors told staff to search for incriminating material that could be used to damage opposition candidates, including Buhari.
"It made everyone feel really uncomfortable," said one source. "They wanted people to load it into their email programs."
People "freaked out", another employee said. "They wanted to have nothing to do with it."
One member of the campaign team told the Guardian and Observer that the material they believed had been hacked included Buhari's medical records. "I'm 99% sure of that. Or if they didn't have his medical records they at least had emails that referred to what was going on."
When news of the London meeting filtered back to Cambridge Analytica staff working on the ground in Nigeria, it caused panic, the source said. Local security advisers told the firm's team to leave the country immediately because if opposition supporters found out, they could turn on them.
"What is clear is that the security of their employees didn't even seem to have occurred to them," said one former employee. "It was a very serious situation and they had to evacuate immediately."
An SCL Elections spokesperson said team members working on the Nigeria campaign remained in the country throughout the original campaigning period, and left in accordance with the company's campaign plan.
The Guardian has seen an email from Nix dated 26 January 2015, referring to the "Israeli team".
It says: "Although it is outside of our remit, I have asked for an update on what the Israeli team has been working on and what they will be delivering between now and the election."
In a second episode in early 2015, sources said the same Israeli team that had worked on the Nigeria campaign obtained private information of the St Kitts and Nevis politician Timothy Harris. At the time he was an opposition leader, and is now prime minister.
Sources have said staff did not want to handle what appeared to be stolen material. "Nobody wanted to have anything to do with it," one employee said.
A statement from SCL Elections said: "During an election campaign, it is normal for SCL Elections to meet with vendors seeking to provide services as a subcontractor. SCL Elections did not take possession of or use any personal information from such individuals for any purposes. SCL Elections does not use 'hacked' or 'stolen' data."
The statement added: "Members of the SCL Elections team that worked on the Nigeria campaign remained in country throughout the original campaigning period, although the election was rescheduled and SCL was not retained for the entirety of the extended campaign period.
"Team members left in accordance with the company's campaign plan. Team members were regularly briefed about security concerns prior to and during deployment and measures were taken to ensure the team's safety throughout."
The revelations will add to the questions facing Cambridge Analytica and the techniques it uses to influence elections for its clients.
In the UK, the Electoral Commission and the Information Commissioner's Office are investigating the firm for breaches of electoral and data protection law.
Since you're here …
… we have a small favour to ask. More people are reading the Guardian than ever but advertising revenues across the media are falling fast. And unlike many news organisations, we haven't put up a paywall – we want to keep our journalism as open as we can. So you can see why we need to ask for your help. The Guardian's independent, investigative journalism takes a lot of time, money and hard work to produce. But we do it because we believe our perspective matters – because it might well be your perspective, too.
I appreciate there not being a paywall: it is more democratic for the media to be available for all and not a commodity to be purchased by a few. I'm happy to make a contribution so others with less means still have access to information. Thomasine, Sweden
https://www.theguardian.com/uk-news/2018/mar/21/cambridge-analytica-offered-politicians-hacked-emails-witnesses-say
Cambridge Analytica (CA) is a British political consulting firm which combines data mining, data brokerage, and data analysis with strategic communication for the electoral process.[8][9] It was incorporated in Canary wharf, London as « SCL USA Limited » in January 2015[7] as a subsidiary of its American parent company SCL Group to participate in American politics.[10] In April 2016, its name was changed to Cambridge Analytica (UK) limited.[7][11]
As per investigations by Guardian, Channel 4 and DW, CA was established in 2013. In 2014, CA was involved in 44 US political races.[12] The company is partly owned by the family of Robert Mercer, an American hedge-fund manager who supports many politically conservative causes.[10][13] The firm maintains offices in London, New York City, and Washington, D.C.[14]. In 2015, it became known as the data analysis company working initially for Ted Cruz's presidential campaign.[13] In 2016 CA worked for Donald Trump's presidential campaign,[15] and on the Leave.EU-campaign for the United Kingdom's withdrawal from the European Union. CA's role in those campaigns has been controversial and is the subject of ongoing criminal investigations in both countries.[16][17][18] Some political scientists question CA's claims about the effectiveness of its methods of targeting voters.[19]
On 17 March 2018, The New York Times and The Observer reported on Cambridge Analytica's use of personal information acquired from Facebook, without users' permission, by an external researcher who claimed to be collecting it for academic purposes. In response, Facebook banned Cambridge Analytica from advertising on its platform.[20][21] The Guardian further reported that Facebook had known about this security breach for two years but had done nothing to protect its users.[22]
A series of undercover investigative videos released in March 2018 showed Cambridge Analytica's Chief Executive Officer, Alexander Nix, boasting about using prostitutes, bribery sting operations, and honey traps to discredit politicians on whom it conducted opposition research. Nix also claimed that the company « ran all of (Donald Trump's) digital campaign », including possible illegal activities. The Information Commissioner of the UK has asked for a warrant to search the company's servers.[23][24]